Students and Alumnae
Current Majors and Minors
Class Year
Program(s)
Lamiya Mowla
2013
astrophysics
Kerrin Arnold
2013
astronomy
classical civilization
Lynn Geiger
2013
astronomy
geosciences
Mariam Qazi
2013
astronomy
political science
Additions or other changes to this list should be communicated to Prof. Kim McLeod.
ASTRO Club
Michaela Fendrock is president (2012-2013) of the ASTRO Club, a student organization which meets for recreational observing, astrophotography, and other activities. The e-mail contact for the ASTRO club is ASTROmail [at] firstclass [dot] wellesley [dot] edu.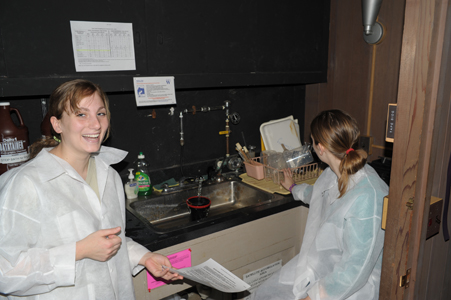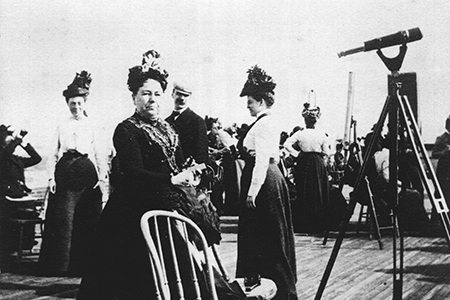 Careers for astronomy majors
Approximately half of our majors go on to graduate school and work toward a Ph.D. in astronomy or astrophysics. Graduates who completed their doctorates have gone on to work at NASA and at institutions such as Cornell University, Williams College, and Harvard University.
Those who chose not to pursue advanced degrees in astronomy apply their skills in other ways, including operating telescopes at Kitt Peak National Observatory and working as research assistants at institutions such as the Harvard-Smithsonian Center for Astrophysics. Others enjoy success in computer science, law, business, education and the Peace Corps. Their science backgrounds enable them to achieve in unlimited capacities.
More information:
Alumnae
Updated information for this list should be communicated to Prof. Wendy Bauer.
For alumnae of the interdepartmental astrophysics program, also see the list of Physics alumnae.
class year
program(s)
Annabelle Batista
2012
astrophysics
Deborah Tien
2012
astrophysics
Eleanor Byler
2011
astrophysics
Phuong Ngo
2011
astrophysics
Japanese Lang. & Lit.
Allison Youngblood
2010
astrophysics
Kathryn Neugent
2010
astronomy
computer science
Jaclyn Payne
DS2010
astronomy
M. Claire Thoma
2010
astronomy
french
Sowdamini Saraswati
2010
astronomy minor
political science
Rebekah Dawson
2009
astrophysics
Molly Wasser
2009
Astronomy Minor
Cinema and Media Studies
Sharon Kotz
2008
astrophysics
Talia Sepersky
2008
astrophysics
Amanda Zangari
2008
astrophysics
Billie Briones
2008
astronomy
anthropology
Cody Squire
2008
astronomy
Jennifer Carne
2008
astronomy minor
economics
Alessondra Springmann
2007
astrophysics
Kelly A. Wallenstein
2007
astrophysics
Kathleen E. Scorza
2007
astronomy minor
history
Rachel A. Hock
2006
astrophysics
Rebecca Stoll
2006?
astrophysics
Laura Faulkner
2006
astronomy minor
american studies?
Elizabeth Lundin
2006
astronomy minor
political science
Wendy P. Hawley
2005
astrophysics
Christine M. Simpson
2005
astronomy minor
mathematics
Lesley L. Yen
2005
astronomy minor
economics
Jennifer M. Huff
2004
astrophysics
Melissa Rice
2004
astrophysics
Chelsea L. Tiffany
2004
astrophysics
Emily C. Bowsher
2004
astronomy
computer science
Morgan P. Carberry
2004
astronomy minor
french
Bena W. Chang
2004
astronomy minor
english
Sarah H. Lee
2004
astronomy minor
english
Sarah M. Rettger
2004
astronomy minor
latin american studies
Carolyn A. Schultz
2004
astronomy minor
political science
Francesca D. d'Arcangelo
2003
astrophysics
Marjorie M. Frankel
2003
astrophysics
Rebecca K. Rosengard
2003
astronomy
Julia W. Felton
2003
astronomy minor
psychology
Julia S. Levine
2003
astronomy minor
english
Carolin N. Cardamone
2002
astronomy
mathematics
Lindsay C. DeRemer
2002
astronomy
geology
Tara A. Donner
2002
astronomy minor
english
Jennifer M. Piscopo
2002
astronomy minor
latin american studies
Gillian Curran
2001
astronomy
Kathryn A. Odiorne
2001
astronomy
physics
Erika L. Reinfeld
2001
astronomy
theatre studies
Franchesa C. Herrera
2001
astronomy minor
political science
Kimberlee A. Williamson
2001
astronomy minor
classical civilizations
Mie Yoshinaga
2001
astronomy minor
art history
Alceste Z. Bonanos
2000
astronomy
physics
Stacey B. Bubolz
2000
astronomy
Logan M. Hennessy
2000
astronomy
Demerese M. Salter
2000
astronomy
physics
Carrie L. Ryan
2000
astronomy minor
american studies
Monique Aller
1999
astronomy
physics? ME/R studies?
Katerina B. Antypas
1999
astronomy
physics
Kerrie Ann McKinstry
1999
astronomy
physics
Lisa Noelani Reinker
1999
astronomy
Caitlin B. Augusta
1999
astronomy minor
med/ren studies
Rebecca L. Harvell
1999
astronomy minor
history
Rachel L. Oppenheim
1999
astronomy minor
english
Sonya Rhee
1999
astronomy minor
film and media studies
Kate R. Butler
1998
astronomy
Rebecca Danos
1998
Astrophysics (individual major)
Kathleen A. Sewall
1997
astronomy
Joellen G. Kusiowski
1997
astronomy minor
anthropology
Katrin S. Hagemann
1996
astronomy
physics
Alexandria Ware
1996
astronomy
physics
Kristen G. Laudadio
1996
astronomy minor
art history
Sarah A. Weisman
1996
astronomy minor
history
Sarah W. Womack
1996
astronomy minor
international relations
Catherine J. Sinnott
1995
astronomy
Deanne M. Taylor
1995
astronomy
physics
Beth Sundheim
1995
astronomy minor
russian
Kathleen M. Burke
1994
astronomy minor
Elaine J. Rigas
1994
astronomy minor
history
Michelle F. Freddolino
1993
astronomy
Sara A. Maene
1993
astronomy
physics
Jennifer L. Olson
1993
astronomy
Deborah L. Gelch
1993
astronomy minor
art history
Jean Kiesow
1993
astronomy minor
mathematics
Tamarleigh Grenfell
1993
Astronomy
Colleen McGhee
1993
Astronomy
Heidi L. Keefe
1992
astronomy
spanish
Jennifer Rogers
1992
astronomy
Emily Mason
1992
Astronomy
Martina B. Arndt
1991
astronomy
Nancy Janet Chanover
1991
astronomy
Jennifer Lynn Hedden
1991
astronomy
Tara C. Woods
1991
astronomy
physics
Mary Ann Clark
1990
astronomy
Nergis Mavalvala
1990
astronomy
Heather Paige Imboden
1990
astronomy minor
architecture
Leyla Feride Yildiz
1990
astronomy minor
Misti McConahay
1990
Astronomy Minor
japanese
Joanne Merrill Attridge
1989
astronomy
Kristin Adrienne Blais
1989
astronomy
chinese
Suzanne Elaine Nelson San
1989
astronomy
architecture
Rebecca Peyton Webb Easterby
1989
astronomy minor
architecture
Lisa Engel
1989
Astronomy
Jeanne D. Troth
1988
astronomy minor
mathematics
Delinda Goodwin
1988
Astronomy
Elisha Polomski
1988
Astronomy
Mary Elizabeth Ramsay Marchese
1988
Astronomy
Dana Rudolph
1988
Astronomy
Med/Ren
Joan Flanagan
1987
Astronomy
Maragert McDuffie Chapman
1987
Astrophysics (individual major)
Amy Mossman
1987
Astronomy
Ana Canizares
1985
Astronomy
Physics
Susan Greenawald
1985
Astronomy
Laura Lewis
1985
Astronomy
Studio Art
Noreen Brown Mecklenborg
1985
Astronomy
Physics
Sherene Aram
1984
Astronomy
Physics
Patricia Henning
1984
Astronomy
Physics
Jennifer Horton
1984
Astronomy
Karen Lasky Pappas
1984
Astronomy
Physics
Elizabeth Burr
1983
Astronomy
Elizabeth McCormack
1983
Astronomy
Physics
Pamela Melroy
1983
Astronomy
Physics
Catherine White
1983
Astronomy
Physics
Larrene Harada
1982
Astronomy
Physics
Jennifer Bond Hickman
1982
Astronomy
Physics
Ruth Chang
1981
Astronomy
Physics
Mary Dussault
1981
Astronomy
Maryann Otter
1981
Astronomy
Elisabeth Street
1981
Astronomy
American Studies
Kristin Thompson
1981
Astronomy
Ingrid Wysong
1981
Astronomy
Physics
Deborah Crocker
1980
Astronomy
Physics
Julie Morgan Rusch
1980
Astronomy
Hilary Wallace
1979
Astronomy
Alice Argon
1978
Astronomy
Catherine Leslie
1978
Astronomy
History
Janie Phillips Schwab
1978
Astronomy
Music
Beverly Kehoe
1977
Astronomy
Elizabeth Casabona Cronauer
1976
Astronomy
Donna MacLaskey Fahey
1976
Astronomy
Peggy O'Neal
1976
Astronomy
Patti Guida Twigg
1976
Astronomy
Math
Pamela Chin
1975
Astronomy
Physics
Pamela Owensby
1975
Astronomy
Barbara Capron
1974
Astronomy
Lola Eachus Chaisson
1974
Astronomy
Catherine Collard Dahl
1974
Astronomy
Susan Nygard Kronenberger
1974
Astronomy
Diane Grannan Patton
1974
Astronomy
Martha Haynes
1973
Astronomy
Physics
Karen Stewart
1973
Astronomy
Faith Vilas
1973
Astronomy
Pamela Knight Wetherbee
1973
Astronomy
Margaret O'Rear Calcagni
1972
Astronomy
Linda Lucignani Crawford
1972
Astronomy
Karen Kwitter
1972
Astronomy
Physics
Mary Shultes Lingel
1972
Astronomy
Anne Mitchell
1972
Astronomy
Debra Smith Pabst
1971
Astronomy
Cordelia Ubben Stroinigg
1971
Astronomy
German
Carole Crane Finck
1970
Astronomy
Jocelyn Keene
1970
Astronomy
Marilyn Twomey Smith
1970
Astronomy
Judy Sterling Eckart
1969
Astronomy
Marian Bliss White
1969
Astronomy
Corinne Stowe Floyd
1968
Astronomy
Nan Hamilton
1968
Astronomy
Margaret Rinse Grove
1967
Astronomy
Frances McConnell Mower
1967
Astronomy
Theodora Hoe Reynolds
1967
Astronomy
Nancy Remage Evans
1966
Astronomy
Sally Wickham Stemwedel
1966
Astronomy
Math
Barbara Butterworth
1965
Astronomy
Doris Austin Price
1965
Astronomy
Donna Weistrop
1965
Astronomy
Jean Deupree
1964
Astronomy
Sally Heap
1964
Astronomy
Helen Stout Sievers
1964
Astronomy
Martha Safford Hanner
1963
Astronomy
Mary Drugan
1962
Astronomy
Marguerite Camusso Ross
1961
Astronomy
Meredith Baldwin Weddle
1961
Astronomy
Political Science
Barbara Welther
1961
Astronomy
Sally Amundson Bradford
1960
Astronomy
Andrea Kundsin Dupree
1960
Astronomy
Rosemary Farren Gauthier
1960
Astronomy
Judith Loxley Lyte
1960
Astronomy
Anne Pyne Cowley
1959
Astronomy
Patricia Bock Rupprecht
1959
Astronomy
Gail Finkel Calder
1958
Astronomy
Anne Taylor Cannon
1958
Astronomy
Marion Talbot Lilley
1958
Astronomy
Sylvia Thayer
1958
Astronomy
XBIB
Winifred Jess Tierney
1957
Astronomy
Jennifer Bain Pirtle
1957
Astronomy
Ann Forger Homsy
1956
Astronomy
Nancy Snyder McCumber
1956
Astronomy
Cynthia Stephens
1956
Astronomy
Julie Hinds Wright
1956
Astronomy
Nancy Weber Boggess
1949
Astronomy
Jane Gillson Langton
1944
Astronomy
Martha Stahr Carpenter
1941
Astronomy
Marion Wolff Caveny
1937
Astronomy
Mildred Burnes Chase
1936
Astronomy