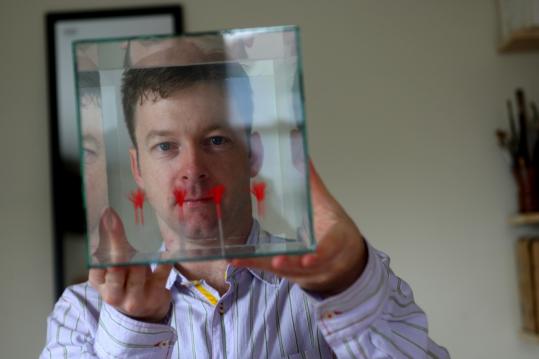 Photo by Joanne Rathe, Boston Globe
Bevil Conway: Biography
Born: Harare, Zimbabwe
Live: Cambridge, Massachusetts
Occupation: Artist and Neuroscientist
Associate Professor of Neuroscience, Wellesley College
Principal Research Scientist, Department of Brain and Cognitive Sciences, M.I.T.
Visiting Scientist, Massachusetts General Hospital
A short annotated biography of discoveries
Education: BSc (1995) McGill University, MMSc Harvard Medical School (1998), PhD Harvard University (2001), Harvard Junior Fellow (2003-2007).
Prizes/Awards/Grants/Research Support
National Science Foundation 1420296 (2014-2018)
National Institutes of Health RO1 EY023322 (2013-2018)
Fellowship, Radcliffe Institute for Advanced Study, Harvard (2010-2011)
National Science Foundation 0918064, (2009-2013 + 1 year extension)
Whitehall Foundation Grant (2008-2011)
Humboldt Research Fellowship (2005-2007)
Junior Fellowship in the Harvard Society of Fellows (2003-2006)
Natural Sciences and Engineering Research Council of Canada PGSB Award (1996-1999)
Markey Scholarship (1997-98, Harvard Medical School)
Muriel Roscoe Prize for the top graduate in Biological Sciences (1995, McGill)
Hewlett Packard Prize for the top science or engineering student (1992, McGill)
Biosketch: At McGill I studied Biology with Sally Gibbs and Bob Carroll, and painting with Gentile Tondino, and in 2004 I studied printmaking with the artist Heddi Siebel. As an undergraduate, in my summers I worked with Joanne Matsubara and Jamie Boyd at the University of British Columbia, examining the anatomical basis for parallel processing streams in cat visual cortex. Following graduation I took a position to teach Biology, English Literature and Fine Art(A Level) at Peterhouse Secondary School in Marondera, Zimbabwe. During my stay back in Zimbabwe I became more seriously interested in Visual Neuroscience as a rigorous way to understand art-making, and I accepted a place in the Neuroscience program at Harvard Medical School. Following one semester of the PhD program, I took a leave of absence to do the first two years of medical school as a Markey Scholar at Harvard Medical School, for which I received a Master's of Medical Sciences (1998). I then went back to finish my PhD in Neurobiology (2001), working on the neural mechanisms of color and motion in primary visual cortex with Margaret Livingstone and David Hubel. During graduate school I taught Neurobiology for John Dowling's core Neurobiology course at Harvard College, helped David run his freshman seminar, maintained an active painting studio, and taught painting in the Visual and Environmental Studies Department at Harvard College. In 2002 I again went abroad, this time to Nepal to help start a new Western-style medical school -- the Kathmandu University Medical School (KUMS) -- where I was the Director of Education for Physiology and Pathophysiology.
In 2003 I was elected a Junior Fellow in the Harvard Society of Fellows to develop my interests in Visual Art and Visual Neuroscience. Following two years as a JF, I received a Humboldt Fellowship to explore the functional organization of color circuits in posterior inferior temporal cortex working with Doris Tsao. I returned to Cambridge MA for a final year as a JF before taking up an appointment as the Sidney Knafel Assistant Professor of Natural Science (Neuroscience) at Wellesley College, a premier women's college with a mission to promote both outstanding original research and undergraduate education. I was promoted to Associate Professor of Neuroscience in 2012. From 2007-2014 my laboratory was split between Harvard Medical School, (Neurobiology) and Wellesley; I am indebted to John Maunsell, who was instrumental in enabling my laboratory activities to continue at HMS during that time. In October 2014 I was appointed Principal Research Scientist at MIT, and I maintain my appointment at Wellesley College. In August 2016, my lab will move to the National Institutes of Health, as part of the Laboratory of Sensorimotor Research (with combined appointments in the National Eye Institute and the National Institute for Mental Health). My lab has active collaborations with several members of the BCS department at MIT, including Nancy Kanwisher, Josh McDermott, and Ted Gibson; and with Qasim Zaidi at SUNY Optometry.
My laboratory continues to investigate the neural basis for visual perception using single unit electrophysiology and functional magnetic resonance imaging, along with human psychophysics and computational approaches; we also have projects aimed at uncovering the neural basis of pitch perception.
My research occasionally strikes a popular nerve, and has been reviewed in the New York Times, the LA Times, The Guardian, Discover Magazine, and other places (see tab on press).
My artwork has been published in several books including Vision and Art (Abrams, 2002) and Brain and Visual Perception (Oxford University Press, 2004), and has been used by BOSE Wave Radio in advertising. A major solo show of my work, 'FACTS', took place at the Radcliffe Institute for Advanced Study in 2010/2011. The work is held in several private collections in Europe, Africa and North America and is in the public collection of the Fogg Museum and the Boston Public Library, and on semi-permanent exhibit at the N.I.H. I am currently working on a series of drawings and etchings, a 'Rake's Progress', exploring mark-making and movement, inspired by Mark Morris's Dancers.Watch the interview that I and Eve Marder conducted with Mark Morris at the Society for Neurosciences Annual meeting in Washington DC.
I am a non-resident tutor in Art, Medicine and Neurobiology at Leverett House, Harvard College.
-------------------------------------------------------------------------------------------------------------------------------------------------
Juried Exhibitions
EVIDENCE, Trinity College, December 2015-March 2016.
Boyden Gallery, St. Mary's College, MD
Prominent Print makers II, New Hampshire Institute of Art image
Re-Mix, 25 year retrospective of MIXIT print studios, portfolio print, juried piece
Group Show, Riverside Gallery, Cambridge MA (Nov. 14, 2010 - Jan. 9, 2011) see the facebook page
FACTS, Byerly Gallery, Radcliffe Institute, Cambridge MA (Oct. 19-Dec. 17, 2010; solo exhibition), reviewed by the Harvard Art Review
Dichotomy, Ferry Biulding Art Gallery, West Vancouver, BC (August 1992; two-person show)
Harmony Arts Festival, Group Show, West Vancouver, BC (Summers, 1990-5; group show)
Winter Group Show, McGill U. (December 1994)
A Watercolor Portrait, Government of Canada Fine Art Gallery, West Vancouver, BC (July 1995; solo exhibition)
Networks, Adams House, Harvard College (February, 2003; group show)
Beautiful Rebellion, Adams House, Harvard College (March, 2003; group show)
Continuing Education Group Show, Massachusetts College of Art (December 2003; group show)
Awards and Honors
Fellowship, Radcliffe Institute for Advanced Study, Harvard (2010-2011)
Faculty of 1000, Biology (Faculty Member since 2009)
Humboldt Research Fellowship, University of Bremen, Germany (2005-7)
Junior Fellowship, Harvard Society of Fellows (2003-7)
Kathmandu University Medical School, Best Teach Award (2002)
Derek Bok Teaching Award, Harvard University (1999)
NSERC Research Award (1993 and 1996-1999)
Markey Scholarship, Harvard Medical School (1997-8)
Muriel Rosco Prize, McGill U (1995)
Duke of Edinburgh's Gold Award (1994)
Hewlett-Packard Prize, McGill U (1993)
McConnell Entrance Scholarship, McGill U (1992)
Wilson Memorial Scholarship, West Vancouver, BC (1992)