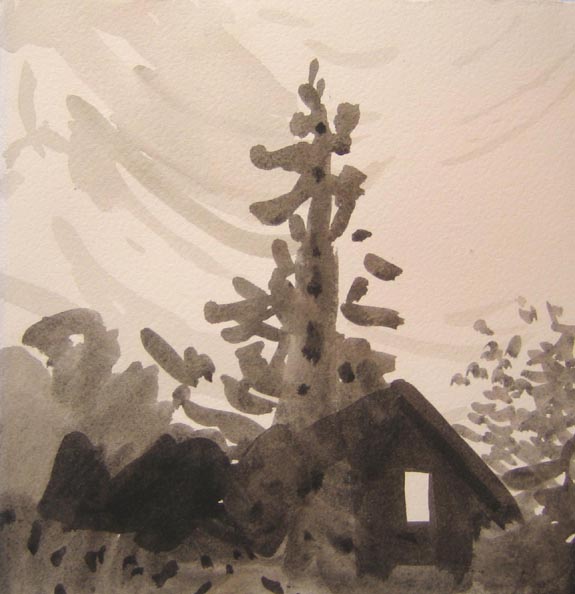 My first artistic passion was watercolors. My mother's sister, Ann, gave me my first set of professional artist's watercolors when I was 7. I take my watercolors with me wherever I travel. I have painted throughout Africa, Europe, Asia, Australia and New Zealand, Canada and the good'ole USA. One of my favorite places to paint is the viselaya gardens, in Concord MA.
I am interested not only in representing places I visit, in encoding a kind of visual diary, but also in trying to work out the kinds of rules that are important to communicate in the simplest way my visual experiences. This exploration is what led me to study visual neuroscience (see science) and has prompted me to develop a new, more conceptually based body of work (see GB series). I am currently developing a book of my watercolors and my written diaries chronicling my travels.
In addition to watercolors, I do large gooey oil landscapes. I'm interested in the same issues as with the watercolors; oils have certain attributes like body that make them better suited to depicting some images. They also have certain limitations, not the least of which is they don't travel as easily. British Airways once confiscated my entire art box full of brand new oils because they thought they were plastic explosives!
Finally, I have become very interested in print-making -- probably because the same issues of rules and representation that I've discussed earlier (see GB series) come into play. I have been told that my draftsmanship is outstanding and I was delighted when the Fogg Museum bought two of my drypoint etchings.