AGENT ORANGE AND THE ANGUISH OF AN AMERICAN FAMILY
By Elmo Zumwalt Jr. and Elmo Zumwalt 3d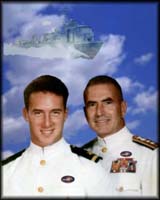 Photograph from Zumwalt Memorial Page
The New York Times Magazine
August 24, 1986, Sunday
Copyright 1986 The New York Times Company
WHEN ELMO RUSSELL ZUMWALT 3D WAS a 23-year-old Navy lieutenant, he patrolled the rivers in South Vietnam, where the dense green jungle hid snipers preying on American crews. To reduce casualties, the area was systematically stripped bare by mists of the chemical known as Agent Orange. Elmo's father, Adm. Elmo Russell Zumwalt Jr., as commander of the American in-country naval forces in South Vietnam, was the one who ordered this defoliation in 1968.
The war in Vietnam has been over for more than a decade, but the Zumwalts feel they are continuing to pay a price for it. Elmo, now 40 years old and a lawyer in Fayetteville, N.C., has two forms of cancer. His 9-year-old son, Elmo Russell Zumwalt 4th, is plagued by a severe learning disability. Elmo and the Admiral, now retired, both believe Elmo's exposure to Agent Orange is responsible for the cancers and for Russell's brain dysfunction. Many other Vietnam veterans and their children have suffered similar fates and have come to the same conclusion.
Through all the devastating experiences of the last several years, the Zumwalts have remained extraordinarily loving and supportive. The heart of their story is detailed in the following ''dialogue.''
ADMIRAL ZUMWALT: LEAVING MY FAMILY TO GO TO SEA WAS always painful. I always had a sense of foreboding - that something would happen, and I would not be there when they needed me. That foreboding became a reality in August 1951.
Not long after the battleship on which I was serving arrived in Cuba on a shakedown cruise, I received a telegram saying that my son Elmo, then 5, had been stricken with polio. Deeply worried, I thought only in terms of permanent paralysis.
By the time I was able to rejoin my family, the news was a little more encouraging, and within 10 days, Elmo was released from the hospital.
A year later, doctors at the Newport, R.I., Navy base hospital told my wife, Mouza, and me that Elmo had tuberculosis. But my physician father, Dr. Elmo Russell Zumwalt, questioned the diagnosis and suggested we consult specialists.
At the Children's Hospital in Boston we learned that what Elmo really had was an atrial-septal defect, a hole between the left and right chambers of his heart, and that his heart was already twice the normal size because of the tremendous overload the defect put on it. We went on to consult Dr. Helen Taussig, a pediatric heart specialist at Johns Hopkins Hospital in Baltimore, who told us that without surgery Elmo had a life expectancy of perhaps 24 years. But he was too young to be operated on then.
When Elmo was 12, Dr. Taussig suggested he begin to think about having the surgery to correct his defect. She wanted it to be his decision as much as ours.
Elmo first asked how long he would live if he had the operation, and how long he would live if he didn't. Then he asked me, ''Will I be able to go to the Naval Academy if I have it done?'' I said, ''Yes, I think the chances are that you will.'' ''O.K., I'll have it done.''
The operation was performed in 1958. Mouza and I sat in the waiting room, our nerves all in knots until we learned that the surgery had been successful.
ELMO: I think that period of my life was harder on my parents than on me. I also think Dad's long absences from home had a way of making me grow up fast. I sort of became a third parent to my brother, Jim, and sisters, Ann and Mouzetta. But when Dad came home from the sea, he always found time for touch football games, picnics and camping trips, and he went to all our school functions.
In the end, my high school grades were not good enough to get me into the Naval Academy. It was a disappointment, but not a bitter one. I was accepted at Elon College in North Carolina, where I did well enough in my freshman year to transfer to the University of North Carolina at Chapel Hill, from which I graduated in 1968.
Now I had a three-year Naval Reserve obligation to fulfill.
ADMIRAL: AS ELMO WAS BEGINNING HIS MILITARY CAREER, mine was moving into an entirely new arena, Vietnam, where I would take command of what was called the brown-water navy, the ships that patrolled the inland rivers and coastline.
At one of the first briefings I attended at the headquarters of Gen. Creighton W. Abrams, Supreme Commander in South Vietnam, an Air Force colonel said that his service would transfer most of its resources to the South Vietnamese by 1976. The next thing I heard was a fist smashing the table, and Abrams shouting expletives. He was enraged that the Air Force did not understand that we had nothing like eight years in which to Vietnamize the war.
When my turn came, I laid out a plan that called for the South Vietnamese Navy to wage the in-country naval war essentially on its own within three years. An Air Force officer began to criticize my plan, but Abrams cut him off. ''The Air Force has already dug itself into a cesspool,'' he said. ''Bud Zumwalt may be doing the same thing, but so far he's making some sense.''
The major problem we faced was the continued infiltration of enemy arms and men into South Vietnam, primarily along the Cambodian border. That was where I thought we should strike hard and fast. But because the waterways there were often very narrow, the men in our patrol boats could easily be hit from either side by enemy fire. Their chances of being killed or wounded were 70 to 75 percent.
I thought one way to save American lives was to destroy much of the foliage along the river banks. This would force the enemy back and make it much more difficult for its forces to ambush our patrol boats. We checked with the Army and Air Force about the possible injurious effects on humans of Agent Orange, which had been used in other defoliation efforts. We were told there were none. You trust those things, and I ordered the spraying of Agent Orange. Our patrol boat casualties dropped significantly as more and more of the chemical was used.
ELMO: I had always thought that combat was the true test of an officer, and I wanted to take that test. After four or five months in the Atlantic and the Caribbean as electronics officer on the Ricketts, a guided-missile destroyer, I asked to serve in Vietnam as an officer-in-charge of a Patrol Craft Fast, known as a swift boat.
After an intensive training course, I arrived in Vietnam in August 1969, and reported to Coastal Division 12 in Da Nang. After several weeks of patrolling in the area, I volunteered to go south, where the river fighting was reportedly heavier.
But first I flew to Cam Ranh Bay to report to the commodore in charge of the swift boats. There I learned that Bob Crosby, the lieutenant who had trained me and my crew, had been killed. My horror deepened when I learned that he had been accidently shot by an American sailor, part of a crew checking out the guns on a swift boat. Somehow, some way, a live shell had been left in one of the guns. The last crew to have patrolled with that craft before the new crew took over had been mine.
Swift boat officers-in-charge were not required, or expected, to check every gun mount after patrol. I never did, and I never saw any other officer do so. But I have never been able to escape my feeling of responsibility for Bob's death.
ADMIRAL: When Elmo came to visit me at my headquarters in Saigon, he told me about the Bob Crosby incident and the almost intolerable pain it caused him.
A Navy board of inquiry exonerated Elmo and his crew in the shooting. The only one who has never exonerated Elmo is Elmo.
ELMO: AT DUSK ONE DAY late in 1969, we slipped under the overhanging jungle growth along a canal bank. I knew we were a few hundred yards inside Cambodia. I also knew that just by crossing into Cambodia I was in violation of direct orders. But I disobeyed the orders because I was sure the Vietcong and the North Vietnamese were infiltrating along this particular river, even though Navy intelligence said they were not. I thought this would be the best way to prove my point. Several hours later, we heard noises coming from downriver. The South Vietnamese had been warned not to be on the rivers at night, so we could be pretty damn sure it was the enemy. It was a convoy of sampans. When they drew to within 20 or so feet of our hiding place, we opened fire. We took some return fire, but then they fled, leaving behind some sampans loaded with weapons.
ADMIRAL : Elmo's unauthorized but successful ambush demonstrated that the intelligence we received gave us only part of the story. Our agents had identified the infil-tration routes along the major rivers, but the Vietcong and the North Vietnamese were clever enough to switch to lesser routes. Largely as a result of Elmo's ambush, I ordered our river boats into the mouths of the smaller canals and creeks.
ELMO : THE HELICOPTER swayed in the crosswinds as we flew over the Cua Lon River. In the distance was Sea Float, the man-made island Dad had conceived of to bring an American presence into the southern part of the country.
I had seen Agent Orange defoliation nearly everywhere I had patrolled, but from the air the extent of it was dramatic - trees were stripped of leaves, thick jungle growth was reduced to twigs, the ground was barren of grass.
In the 11 months I was in Vietnam, I had often washed in the waters into which Agent Orange had drained and had eaten local produce which I suspect had been doused with the chemical.
I remember developing a skin rash while in the Sea Float area. I have since learned that one of the effects of Agent Orange exposure is a skin rash. But at the time, I was thankful for the defoliation. It meant the enemy could not attack Sea Float without great cost to itself.
ADMIRAL : AS I WAS EATING breakfast at headquarters in Saigon on April 12, 1970, a communications messenger ran in to tell me I had a telephone call from Secretary of the Navy John Chafee, who ordered me to take the next commercial flight to Washington.
When we met at the Penta-gon, Secretary Chafee said, ''Bud, you are the one Mel Laird and I have nominated to the President to relieve Tom Moorer as Chief of Naval Operations.''
Despite my regrets about not completing my Vietnam tour, I felt very deeply that significant changes were needed within the Navy, and the one way I could effect them was as C.N.O.
ELMO : When I finally boarded the plane at Ton Son Nhut Airport at the end of June 1970, I had an indescribable feeling of exhilaration and relief knowing I was really getting out, and that my crew was leaving, too. Dad had preceded me by about six weeks.
ADMIRAL : I believe our effort in Vietnam was worse than futile. We would have been far better off never taking that stand. What has since happened to Elmo and his son as a result of that war has only intensified that feeling.
ELMO : WHEN OUR SON, Elmo Russell Zumwalt 4th, was born on March 12, 1977, seven years after I returned from Vietnam, he appeared to be happy, responsive and normal. But within a few months, my wife, Kathy, began to sense that something was wrong. He was slower to lift his head, crawl, sit up and walk than his sister, Maya, had been. Kathy took Russell to a pediatric neurologist in Fayetteville. He could find nothing wrong with Russell's reactions to stimuli.
But not long after Russell began nursery school, his teacher told us he did not appear to learn what she tried to teach him. She suggested that he be evaluated by a child psychologist.
It became painfully clear after a series of tests that Russell had not progressed as a normal 4-year-old should. At an age when other children were learning the alphabet sequence and how words are formed, Russell could not recognize a single letter. His speech was also below his age level.
Two years later, Kathy and I became aware through press and television accounts that many Vietnam veterans whose children had been born with serious defects believed their exposure to Agent Orange might be responsible. But I did not then make a connection between my exposure and Russell's learning difficulties.
ELMO : FOR WEEKS, I HAD not been able to shake a dry, hacking cough. Kathy, along with Mom and Dad, insisted that I see a doctor.
Early in January 1983, Dr. Douglas Henley, a young family practitioner, diagnosed my cough as postnasal drip, but I could see that he was concerned as he examined me further, particularly about my abdomen. After consulting with his partner, he told me my spleen had become enlarged.
I possessed enough medical knowledge to know that could mean cancer, and I asked if that were a possibility. Dr. Henley said yes, but that it could mean many other things. At his suggestion, Dr. Franklin Clark, an outstanding local surgeon, removed two of my lymph nodes and sent them to a pathologist for study.
Several days later, Dr. Clark called with the results: I had lymphoma, a cancer of the lymphatic system. My specific type, he said, was called nodular poorly differentiated lymphoma, or N.P.D.L., a very slow-moving form of the disease. When I hung up, Kathy and I wrapped our arms around each other and cried.
Later that day, I called Dad to tell him I had cancer. We Zumwalts play a lot of jokes on one another, and they can get a little rough sometimes, so Dad laughed and said, ''You're kidding me.''
I said I wished I were. After a long pause, Dad said, in a soft voice, ''Elmo, I just don't know what to say.''
When I told Mom, she cried and said how unfair she thought it was. I didn't feel any sense of unfairness or anger. I realized I had a problem to deal with, and I had better get on with it.
Dad and I began a flurry of activity to learn as much as we could. We telephoned cancer specialists around the country and consulted oncologists at several universities. Then we went to the National Cancer Institute in Bethesda, Md., where they discovered that the cancer had spread throughout my lymphatic system and had invaded my spleen, my bone marrow and probably my liver. That was devastating to hear. But Dr. Paul Bunn, an oncologist, then at N.C.I. and now at the University Hospital in Denver, whom we consulted, offered some good news: because N.P.D.L. moves so slowly, the median survival time, even at an advanced stage, is eight years. There was, however, a dark side: my type of lymphoma was always fatal. ''Every time?'' I asked. ''Yes,'' Dr. Bunn said.
He was, however, able to offer some hope. Doctors at Stanford University had recently reported the cure of an N.P.D.L. patient as the result of an experimental technique involving monoclonal antibodies, which modify the body's own immune defense system so that it attacks the malignant cells and rids the body of the cancer.
Dr. Bunn said I could begin chemotherapy immediately, or I could watch and wait. He said that a 10-year compara-tive analysis had shown that N.P.D.L. patients who received immediate treatment did not have survival times any longer than those who waited until the disease became more active.
I decided to watch and wait.
I made a decision to volunteer for a research program at N.C.I., so that the progress of my disease could be monitored by an institution at the cutting edge of research and treatment. Several months later, I also decided to go to Stanford to see if their researchers could develop my monoclonal antibodies.
ADMIRAL : Of all the crises Elmo and I had been through together, the diagnosis of his cancer was the toughest. But he never expressed the least bit of anger, and although he maintained hope, he did not delude himself into believing that he was going to be cured.
And it seemed to me that he felt his medical condition was of secondary importance to his family's financial condition. He was deeply worried, almost to the point of obsession, about their welfare. He was most troubled about Russell's future.
To ease his mind, I placed some money I had inherited into a trust fund for Russell. And I promised I would continue contributing to the fund so that, if the worst happened, Russell would have enough money to subsist in adulthood.
ELMO : ONE OF RUSSELL'S speech teachers attended a seminar where Dr. Salvatore DeMarco of East Carolina University spoke on sensory integration problems in children. She thought he might be talking about Russell's problem. We contacted Dr. DeMarco, who tested Russell and reported he had a sensory integration dysfunction, which originates in the brain, but the cause of which is uncertain. The symptoms are an inability to discriminate among sounds and sights and to concentrate.
There was no surgery that could improve Russell's dysfunction. And while some children's conditions are improved with drugs, they did not help Russell. In many cases, when children reach 11 or 12 they begin to outgrow these problems to some extent. But given the level of Russell's dysfunction, Dr. DeMarco did not think Russell would ever completely overcome his.
ELMO : IN FEBRUARY 1985, two years after the initial diagnosis of my lymphoma, Dr. Ivor Royston, a leading researcher in monoclonal antibodies at the University of California in San Diego, performed my ninth lymph node biopsy. When he called with the results, he reported that, incredible as it seemed, I had Hodgkin's Disease, a fast-moving, aggressive form of cancer, as well as lymphoma. One lymph node had grown so big it was impinging on my bladder and moving toward my ureter and kidney.
The time for watch-and-wait was over.
Because my cancers appeared in so many areas, radiation would not be effective, nor would surgery. The only potentially useful treatment was chemotherapy.
ELMO : I AM A LAWYER and I don't think I could prove in court, by the weight of the existing scientific evidence, that Agent Orange is the cause of all the medical problems - nervous disorders, cancer and skin problems -reported by Vietnam veterans, or of their children's serious birth defects. But I am convinced that it is. (In May 1984, a class-action suit brought on behalf of Vietnam veterans against several chemical manufacturers involved in the production of Agent Orange was settled without trial for $180 million.) I realize that what I am saying may imply that my father is responsible for my illness and Russell's disability. I have the greatest love and admiration for Dad as a man, and the deepest respect for him as a military leader. I do not doubt for a minute that the saving of American lives was always his first priority. Certainly thousands, perhaps even myself, are alive today because of his decision to use Agent Orange.
ADMIRAL : Knowing what I now know, I still would have ordered the defoliation to achieve the objectives it did, of reducing casualties. But that does not ease the sorrow I feel for Elmo, or the anguish his illness, and Russell's disability, give me. It is the first thing I think of when I awake in the morning, and the last thing I remember when I go to sleep at night.
ELMO : I HAVE ALWAYS fought to keep thoughts of my disease from dominating my consciousness. But after I learned that my latest lymph node biopsy showed there were Hodgkin's disease cells present, I found myself wondering what death would be like and how I would feel when it approached.
Thinking about Maya and Russell was the hardest part. After I broke the bad news of my test results, Maya asked if I wanted to die to get rid of my cancer. I told her I would rather be on earth with her.
I knew then that if my next three months of chemotherapy were not successful, there was a treatment of last resort, an experimental procedure in which I would be given total body radiation, coupled with high levels of chemotherapy. The treatment is so powerful that it completely destroys the marrow inside the bones that manufactures blood cells, which must then be replaced by transplants.
Dr. John J. Nanfro, the physician at the Naval Hospital in Bethesda, who told me about this treatment, warned that this is the most intensive medical procedure he knew. ''If you combined your polio, heart surgery, Vietnam experience, cancer and chemotherapy all together, the bone marrow would still be worse. It is unbelievably difficult for the patient and the risks are very high.''
A bone marrow transplant required a donor who had a perfect tissue match with me. So the first thing was to determine if any of my siblings qualified.
ADMIRAL : Elmo's sister Mouzetta provided the good news. She turned out to be a perfect tissue match.
ELMO : LESS THAN TWO weeks after my final chemotherapy treatment was completed in November 1985, I discovered an enlarged lymph node in my left groin area.
This was the worst possible sign. I could not believe it had appeared so quickly in the face of nine months of potent anticancer drugs. If it were Hodgkin's, the more aggressive of my two cancers, I knew my time could be very short.
Dad and I were alone in my room at the hospital in Bethesda the morning before I was to have my 14th lymph node biopsy. Neither of us openly express our emotions often, but there were some things I felt very deeply. I told him he had done more for me than any father could possibly do for his son. He had lifted so many burdens off me that I could never adequately express my gratitude.
Dad put his arms around me and told me how glad he was to be able to help, and what I meant to him as a son. Neither of us could talk for quite a while afterward.
When the pathology report was completed, it showed the worst had happened. It was Hodgkin's disease.
ADMIRAL : I had always let myself have hope, but that hope was shattered when Elmo told me the results of his latest pathology report. I could not escape the sadness I felt at the prospect of facing life without Elmo. He is more than a son to me. He is also my partner, my brother, someone in whom I have absolute trust and confidence. I knew that without Elmo life would never have the zest and fun that he puts into it.
ELMO : I WAS FACED WITH the hardest decision of my life. During the bone marrow procedure, I had a 1-in-5 chance of dying - from bacterial, viral and yeast infections, the failure of Mouzetta's bone marrow to ''take'' in my body, or graft-versus-host disease, in which the new white blood cells in the marrow attack the host's cells in the liver, skin, lungs and so on.
In the end, I decided on the bone marrow transplant because I love Kathy, Maya, Russell, my family and life, and I wanted to do the one thing that would give me a chance of being with them for a long time.
ADMIRAL: KATHY, MOUZETTA, Maya, Russell and I took up residence on Jan. 30, 1986, in a small apartment that was a short walk from the Fred Hutchinson Cancer Research Center in Seattle, a primary facility for bone marrow transplants, where Elmo was to receive his transplant from Mouzetta.
To lessen the chances of infection, Elmo was placed in a sterile environment. His living space was an 8-by-10-foot cubicle partitioned off from the rest of his hospital room by a nylon curtain.
I brought a calendar for Elmo's wall. I thought marking off each day would give him a psychological lift, reminding him how far he had come.
Beginning Wednesday, Feb. 12, Elmo began an exhaustive procedure: two days of massive chemotherapy, a day of rest, and then six days of full-body radiation, designed to kill every last cancer cell in his body. Just as the doctors had predicted, Elmo's condition steadily worsened. With no immune system to protect him, he developed mouth, throat and esophagus sores so severe he said it felt as though someone were inside his mouth with a branding iron.
He could not take too much morphine because it would impair his kidney function. Several nights he paced until dawn because of the pain. His face puffed out and in a single hour he lost all his hair. But no matter how badly he felt, he found a way to stagger over to the calendar and cross off another day.
ELMO: Dad came by every morning for almost three months, but sometimes I felt so terrible I did not say a word to him. He would always tell me he loved me and try to cheer me up.
ADMIRAL: On Feb. 20, Mouzetta was admitted to the Swedish Hospital Medical Center, directly across the street from the Hutchinson Center. Surgeons there removed 1,000 cubic centimeters of her bone marrow, which was rushed to Elmo's bedside where it was intravenously injected into him.
Three weeks later, the doctors drew marrow from Elmo's bone for analysis. The results indicated that Mouzetta's marrow was producing both red and white blood cells. We were all jubilant. A major hurdle had been surmounted.
On Monday, March 24, 1986, we gave Russell the honor of being the first to walk into Elmo's heretofore bacteria-free bubble. It was a symbolic step, indicating that Elmo's immune system could now tolerate normal air and contact with people. That same day, Elmo was discharged from the Hutchinson Center. It was a time of great emotion and joyous celebration.
ADMIRAL: Last month, Elmo developed graft-versus-host disease, but his doctors at Bethesda hope they can bring it under control with immunosuppressive therapy.
It has now been three and a half years since Elmo was first diagnosed as having cancer. I think back on those times when Elmo was at his absolute worst, so fevered, pained and weakened that it was ha f for him even to lift his head. I remember him whispering to me, ''Dad, it llll have to get a hell of a lot worse than this before I give up.''
GRAPHIC: Photo of the Zumwalts--father, son and grandson in January 1986 (Lynn Johnson/Black Star); Photos of Elmo Zumwalt 3d's ''swift boat,'' 1969; the boat's crew in Saigon, 1969; planes spraying agent orange over Vietnam and Admiral Zumwalt with Gen. Creighton W. Abrams with Vietnamese officials in 1970 (Billy Nairmore; Charles Steiner; U.S. Navy) (Pg. 34); Photo of Admiral Zumwalt with son in Nor
(c) 1999, LEXIS(r)-NEXIS(r), a division of Reed Elsevier Inc. All Rights Reserved.