Wellesley College Students Take Top Honors
in Japanese Essay Contest
FOR IMMEDIATE RELEASE:
April 12, 2007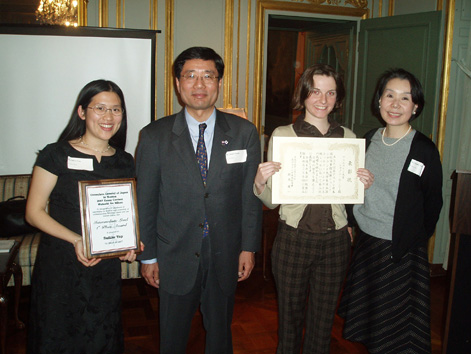 From left: SuiLin Yap, Consul General Yoichi Suzuki, Shannon Lucy and Professor Kazuko Ozawa
WELLESLEY, Mass. – Wellesley College junior SuiLin Yap of Kuala Lumpur, Malaysia, and senior Shannon Lucy of Bennington, Vermont, have taken top honors in an inaugural New England Japanese Essay Contest, entitled "Watashi no Nihon," or "My Japan."
The essay contest was conducted under the auspices of the Consulate General of Japan in Boston. Colleges throughout New England were allowed to submit essays from two students, one who had studied more than three years of Japanese, and another who had studied less. Yap won first place in the intermediate division and Lucy won second in the advanced division. Wellesley College was the only school to have students place in both categories.
Yap, an economics and mathematics major, focused on the evolution of her relationship with Japan for her essay. It began with her learning violin using the Suzuki method as a child and later representing Malaysia in an Asian youth exchange program in Japan during high school. While at Wellesley, Yap has further pursued Japanese, including as an intern at the Japan Business Federation and Japan Productivity Center in Tokyo last summer under Wellesley's Center for Work and Service's Luce Internships in Asia Program.
In her essay, Lucy, a Japanese language and literature major, focused on how visiting various shrines and temples increased her understanding of the Japanese culture and people.
Both students were honored on Friday, March 30, at the official residence of Consul General Yoichi Suzuki. They were accompanied by their professor, Kazuko Ozawa of Wellesley's Japanese Program.
Since 1875, Wellesley College has been a leader in providing an excellent liberal arts education for women who will make a difference in the world. Its 500-acre campus near Boston is home to 2,300 undergraduate students from all 50 states and 68 countries.
###