Even in the North many city theatres and performance venues were off limits to people of African descent during the Jim Crow era of the early twentieth century. Nonetheless, black Bostonians were busy inventing in finding and creating spaces of their own, among them private clubs.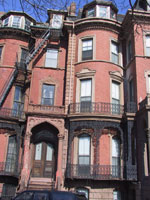 The League of Women for Community Service, located in a brownstone mansion at 558 Massachusetts Avenue, is one of the two clubs founded in 1918 that have continued to flourish to this day.
A group of prominent black women, inspired to aid in the World War I effort, were the founders. Their number included Josephine St. Pierre Ruffin, organizer in 1892 of the Women's Era Club and its influential newspaper, and her daughter, "Florida" Ruffin Ridley.
Another active member of the "League" was Maud Cuney Hare, a black intellectual, musicologist and founder of a small performing arts school, who assiduously promoted the cause of artistic performance and entertainment.

Though born out of a commitment to serve the nation in the World War I effort, the League (at first called the Soldier's Comfort Unit) went on to work on behalf of community volunteer service.
It also contributed in many ways to support and sustain intellectual and artistic activity among black Bostonians. Symbolic of this commitment were the art exhibits, concerts, literary study groups, and lectures held at "558" over the years.
Prominent speakers, both white and black, were regularly welcomed. The LWCS provided a secure space for black cultural production and a receptive audience for performance.
Music, lectures, concerts and drama all had a place at 558—lifting audiences out of the realm of daily life, stimulating reflection and fostering creative activity.